0
EXPERIENCE DEATH VALLEY'S STUNNING WILDFLOWER BLOOM WITH
PINK JEEP TOURS' "FLOWER POWER TREKKER TOUR" BEGINNING MARCH 1
Guests to Experience One of Nature's Most Stunning, Desolate Areas on Earth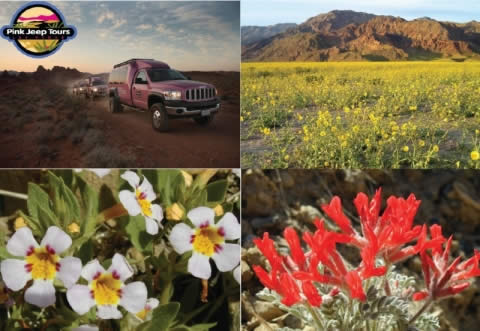 LAS VEGAS - Record rainfall may result in a stunning bloom for Death Valley, Calif., the world-renowned national park. To commemorate this anticipated wildflower bloom, Pink Jeep Tours is offering a special price of $209 for the Flower Power Trekker Tour.
The special price will be available from March 1 through April 30. Guests will be taken via The Tour Trekker, Pink Jeep Tours' brand new first of its kind, high-end and spacious sightseeing vehicle. The tour will include a picnic lunch amongst the vast fields of flowers.
Death Valley comes to life with Pink Jeep Tours showcasing the most spectacular highlights of the largest national park in the contiguous United States. This vast and desolate 3.3 million acres of desert consists of streaming sand dunes, snow-capped mountains, multi-color rock layers and formations that is as harsh as it is beautiful. The tour begins with a visit to Rhyolite, Nev., home to rustic ruins of the past then continues with entry into Death Valley National Park.
Approximately 135 miles from Las Vegas, Death Valley's spectacular spring wildflower bloom has attracted visitors from around the world for decades. When the spring florals display, Death Valley's floor transforms into oceans of colors and textures. According to the National Park Service, there are more than 1,000 plant species including 13 species of cactus and 23 endemics (indigenous plants in Death Valley). Desert annuals are the most visual with colors ranging from white and yellow to purple, blue, red and magenta.
The National Park Service notes a good wildflower year depends on well-spaced rainfall throughout winter and spring; sufficient warmth from the sun and lack of desiccating winds.
Death Valley is the lowest, driest and hottest valley in the United States. While Death Valley drops to almost 300 feet below sea level, the Mojave Desert to the south boasts mountain ranges rising to 5,000 feet.
Pick up is 7:30 a.m. and available from any hotel or resort within Las Vegas with an approximate return of 7 p.m. The special price is $209. Picnic style lunch included. For more information, contact Pink Jeep Tours at (702) 895-6777 or go to www.pinkjeep.com.
ABOUT PINK JEEP TOURS - LAS VEGAS, INC.
Experience the "natural side" of Las Vegas. Founded in 1958 in Sedona, Ariz., Pink Jeep Tours is the premier off-road tour company in the Southwest. This year, Nevada Magazine readers named Pink Jeep Tours "Top Tour Company." Built and designed specifically for Pink Jeep Tours, The Tour Trekker is the first-of-its-kind, luxurious yet rugged, all-terrain vehicle. As one of the few Las Vegas tour companies to possess off-road permits, guests experience areas inaccessible to most. From Grand Canyon to Hoover Dam to Mt. Charleston, there are 10 tours showcasing the Southwest's breathtaking landscape. Off-road has never been so civilized. For more information, go to www.pinkjeep.com