0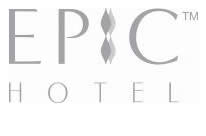 Giving downtown Miami's new EPIC hotel a resort-like vibe, is its stunning "island-in-the-sky" pool deck. A signature amenity of the hotel described by one local as a "showstopper, offering Blade Runner-esque views of Miami", the deck elicits an audible gasp of amazement from first-timers the moment they step out onto the pool area.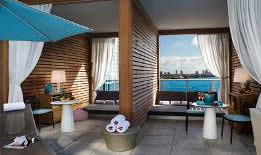 Sitting 16 floors above sea level overlooking the "Magic City", EPIC's 13,752-square-foot wrap-around pool deck provides an oasis by day and a pulsating hot spot at night.

Recently named one of Travel + Leisure's top eight favorite hotel rooftop bars, EPIC's pool deck is a cosmopolitan retreat that offers spectacular, glimmering views of both Biscayne Bay and the city skyline.

At the pool deck, guests can relax and lounge any way they choose - in style, on one of the stylish day beds surrounding the two glass mosaic infinity pools, or on ample chaises, ottomans and benches that comfortably seat small and large groups. Light blue cushions juxtaposed against bronze brown woven resin seating areas create splashes of color. And for those seeking a more private experience, ten airy cabanas (pictured left), provide intimacy and comfort for those seeking an escape from the sun.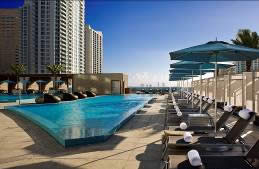 After dark, the lights of the city below and moon above the bay create a truly spectacular gathering place -- making EPIC's pool deck an idyllic spot for special events and functions.

Guests can also enjoy a range of tantalizing menu items and refreshing cocktails from the poolside menu, including one of its specialties, the EPIC Sunset, made from Belvedere Pomarancza, Grand Marnier, Campari, and passion fruit.

Managed by Kimpton Hotels & Restaurants, EPIC is a new lifestyle, waterfront boutique hotel located at the edge of the Miami River and Biscayne Bay. EPIC combines the timeless style of a cosmopolitan boutique hotel with the amenities of a resort to create a sophisticated recreation oasis for guests amidst the energy and pulse of Miami.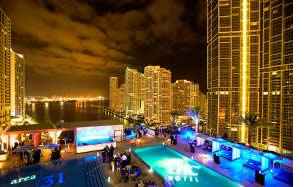 EPIC is located at 270 Biscayne Blvd Way. For more information on the hotel and reservations, please call (866) 760-3742 or (305) 424-5226 or visit www.epichotel.com.